If ever there were something you had to see to believe, it would be the fireworks on New Year's Eve in Naples, Italy. Ho.ly. Cow! Everyone, and I mean
everyone
, including us, came together at midnight and shot off fireworks and other explosives. Things I'm pretty sure you need a license to purchase in the US, you can find guys selling on the street here. It was, well, indescribable. You simply had to be there. Especially since I can be a dunce with the camera sometimes and completely failed at taking pictures or video of the event. You know how when you take a picture of something beautiful or amazing and then you look at it and say, "The picture doesn't do it justice?" Well, my friends, my pictures truly did not do those fireworks justice. You'll just have to come on over next year and see it for yourselves.
I did, however, manage to take a couple of shots of my hors d'oeurves display. As an unemployed stay at home mom with a kid who is really good at entertaining himself, I find myself reading food blogs more than I care to admit. And I really don't care to admit how often I drool over recipes at
How Sweet It Is
, which is where all these tasty treats came from. If you do nothing else in 2011, please try the cookie dough dip. You won't regret it.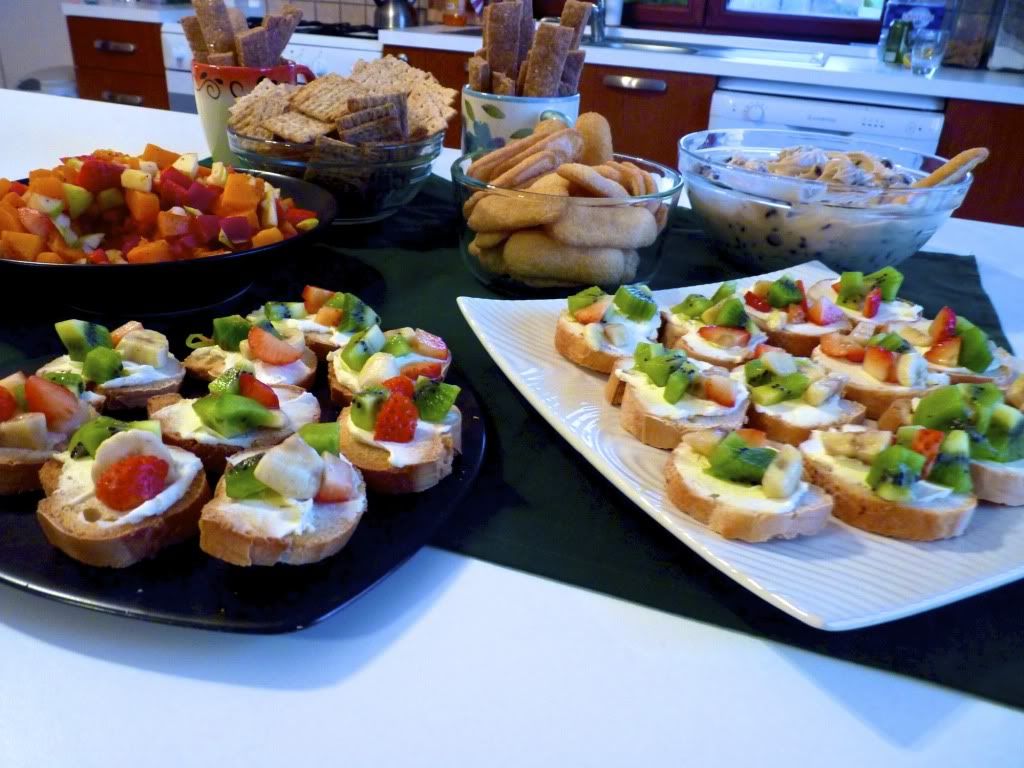 Before this story can end, I also must tell you about the supper we had on New Year's Day with our landlord's family. I don't know why I was only expecting one plate of food. I should have known better. They served antipasti, primi, secondi, secondi, dolce, dolce, and cafe (Translation: a plate of appetizers big enough to be a meal followed by a plate of pasta, then a plate of meat and eggplant parmesan, then a plate of lamb, potatoes, and peas, then a plate of fruit, then a plate of cake with a shot of espresso). Think five times the amount of food you eat at Thanksgiving. All of it rich and delicious. I kept telling myself to just take one bite to taste everything so I didn't explode. As soon as the taste hit my tongue, though, I would reach for my next bite, and before I knew it, my plate was cleared. We sat for three and a half hours just eating and eating, watching a Naples concert on TV and trying to converse with each other. Apparently, it is something a lot of families do every Sunday over here. Again, you had to be there to believe it.
Moral of the story? Come to Naples, Italy as soon as you possibly can.
You won't leave hungry.