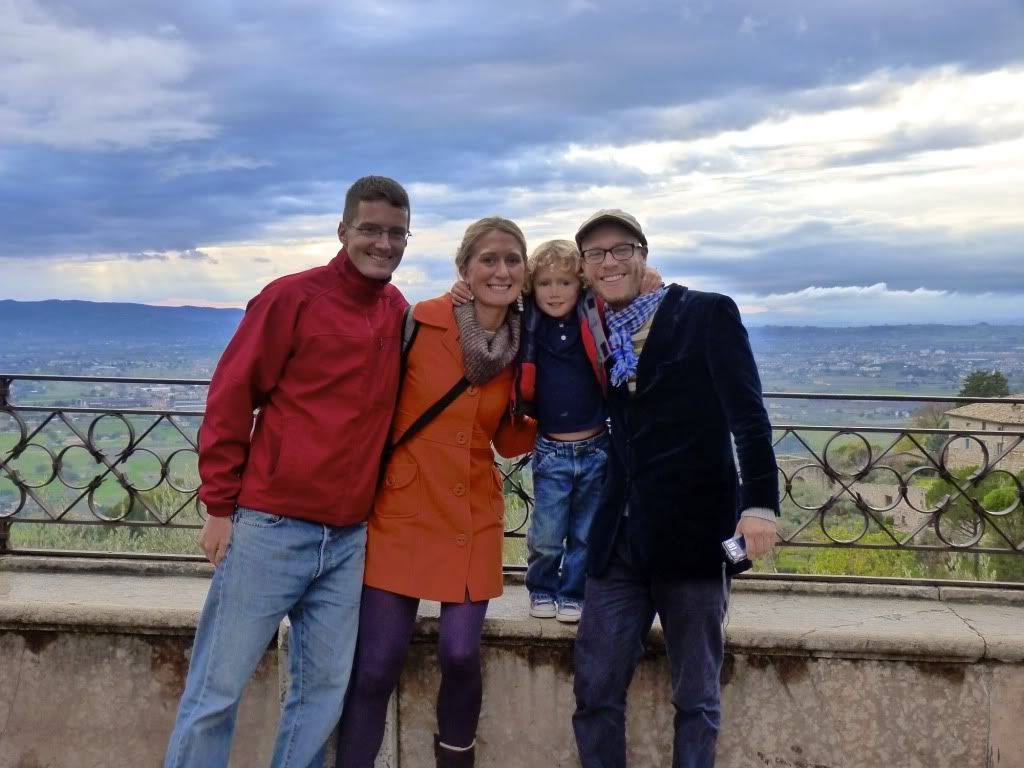 We were not without family on Thanksgiving. We had the pleasure of dining twice with a fellow Gonzaga Prepster, Devin Francis Biviano. Named after St. Francis, because his dad spent some time being a Franciscan monk. Devin did a great job filling in as Uncle, Brother, and Step-Cousin. He even hung out with Graham outside St. Chiara so that Tony and I could go in and marvel without being jostled by a three-year-old. Thanks, Devin!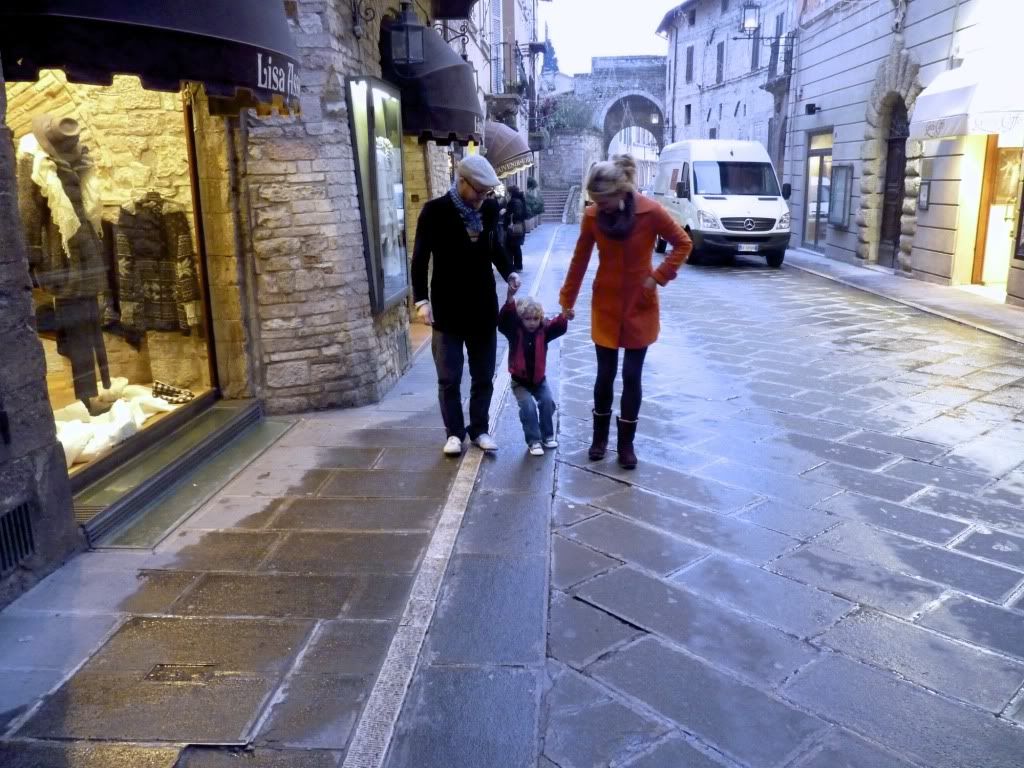 Oh, and did I mention that we met him in Assisi?
Assisi. A place normally filled to the brim with Catholic pilgrims and tourists, and we had it to ourselves. Literally, we were the only ones in the restaurant where we had lunch, and then again when we had pizza for dinner. This means that the Basilica was not full of people, either. Such a treat.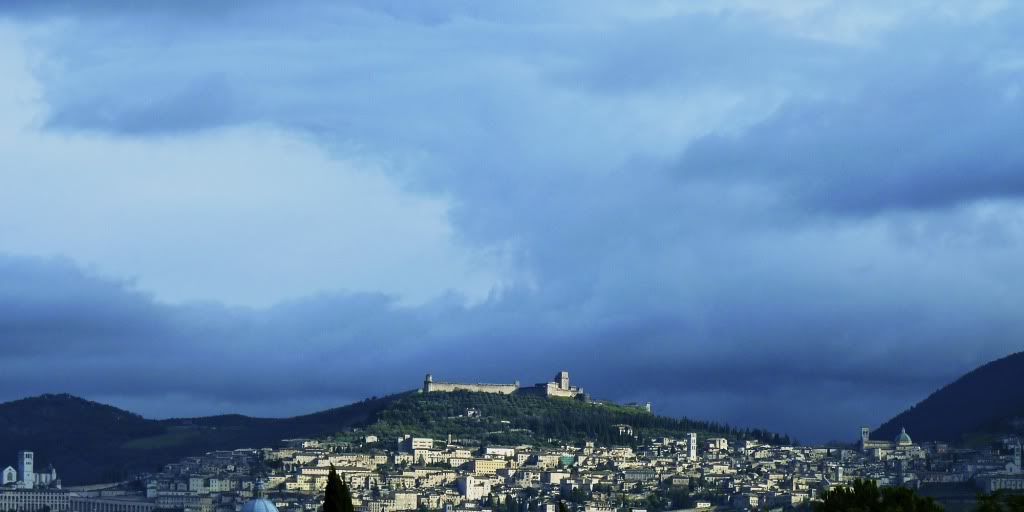 When we reached the tomb of St. Francis in the basement of the Basilica, I was feeling strange and bothered and annoyed with myself for being far less spiritual than I once was. While Tony took Graham to see the tomb, I sat in a pew and thought that motherhood, I suppose, has been my excuse for never meditating or praying or even taking a moment to be grateful. I usually just feel preoccupied and as though I am barely hanging on. I realized in that moment that I need to take advantage of the times when Graham is entertaining himself or being entertained by someone else and do something good for my soul. Seconds after this realization, Graham was back in my arms asking me to hold him and take him to see the tomb again. I obliged, and while I was holding my happy, healthy child, I glanced down next to the tomb and saw many photos of children. I couldn't help but wonder if some mom out there lost her smiling child to illness or an accident and brought a picture of him to St. Francis for prayers and protection. I squeezed Graham a little tighter and offered up a huge prayer of gratitude and then cried my head off the rest of the day thinking about all those pictures around the tomb.
A good cry is always good for the soul.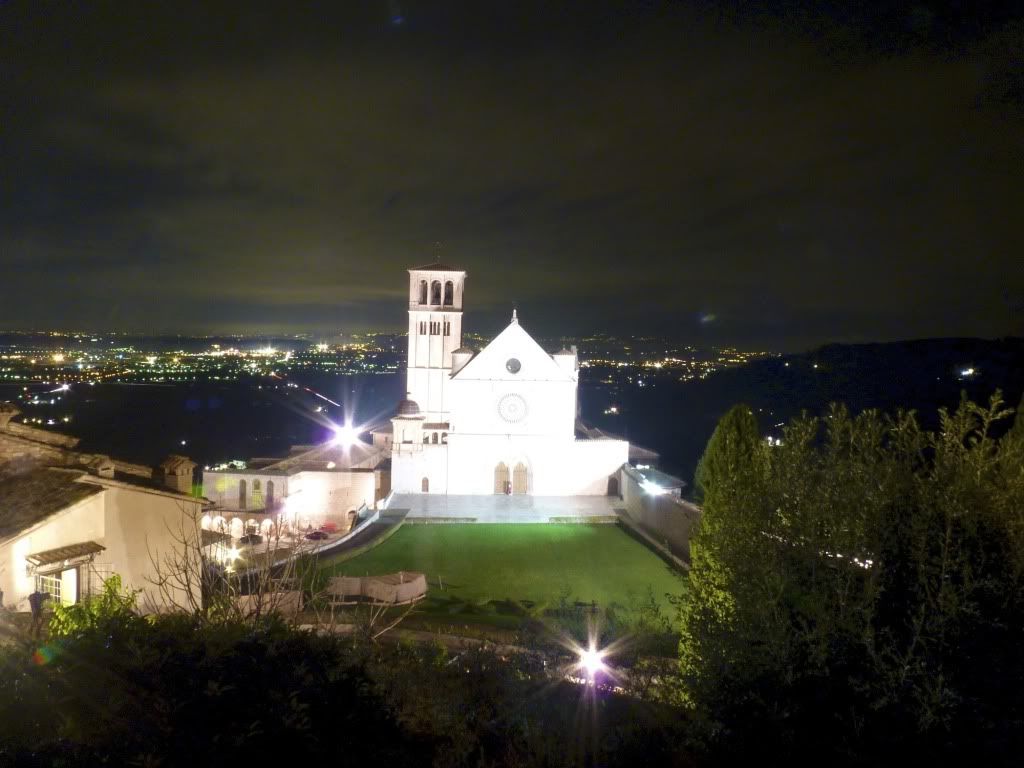 So, what did you do for Thanksgiving? Who were you with? What were/are you grateful for? Did you laugh? Did you cry? Did you eat too much and pass out?
I would truly love to hear about it because I miss you and I am thankful that you listen to my rambling.
**Update** We are currently in Stuttgart, Germany where we have a good internet connection in our room, so I'll be able to catch up on our stay in Innsbruck, our day on the slopes, and the latest adventures with Mama Graham.
Stay tuned!